Please consider a donation. Your donation helps to keep this site running

mY mAPS
If this is your first time visiting this weekly chronicle, welcome. If not - I hope you like (and enjoy) some of the changes I've made to the page to make it easier to find the content you're looking for as well as the aesthetic changes to make the page more palatable. There have been changes to the look and feel, navigation, etc.... If you have any feedback on it or would like to suggest any further changes - you can use the email ink above.
As I have been doing for the majority of the history of Doom's existence, I will continue to bring you new doom wads, new reviews, updated news and much more. This particular page is my modest attempt to keep you abreast of all the current goings on in the Doom community - new Doom wads, new Doom 3 maps, updates on projects, Doom engines and more. And, don't forget - pretty soon, we'll be able to celebrate the release of Doom (2016). Enjoy and Keep on Dooming!
SPECIAL ANNOUNCEMENT
The Doom Wad Station forums are now up and running! It's been a long time since I had forums and I put some work into setting these up. Please take the time to visit them and create an account. Get all your burning questions answered or just pimp your work. :-)
==============================================================
One more thing I want to add before we get into it. Silent Zorah was kind enough to update a bunch of his music which you can download for free and put in your maps so to get all that good info -
================================================
Big news for Risen3D fans; Risen3D v2.2.30 has just been released! Risen3D is an advanced Doom port by Graham Jackson based on Jaakko Keranen's Doomsday port with tons of features, including MBF-support, many zDoom features, including slopes and 3D floors, OpenGL graphics, 3D models, and much more. It's really an awesome source port. If you haven't already for whatever reason, definitely give this a download right NOW and try it out; it's awesome!

Find the Risen3D team's site here: http://risen3d.drdteam.org/
Here's a couple of screenshots from Sitters latest map for Risen3d. Salivate away!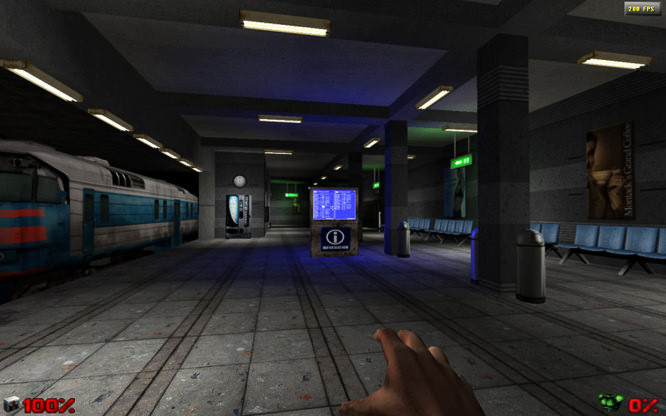 Keep up the good work guys. I love your port!

NEWS from the /IDGAMES ARCHIVES
We have 15 wads coming in this week on the archives! Starting with the first uploaded, we have "UAC Madness" by Fever (Oldcpv3). Find it here: http://doomwadstation.net/idgames/doom2/Ports/s-u/uacmad.zip

This 3-map wad runs under the Ultimate Doom iWad and was tested in Boom. I have literally nothing good to say about this, so rather than trash it I'll say nothing at all. Except that... and that, andthatandthatandthatetc.

_________________________________________________________________
Following that is "Extinguished" by Stormwalker A.K.A. Vordakk, which can be found here: http://doomwadstation.net/idgames/doom2/Ports/d-f/extngshd.zip




This map runs in Limit-Removing formats with the Doom 2 iWad.

Vordakk is a very skilled mapper and this map was a blast to play! Very nice-looking, too. I liked the monster variety and setups of the encounters. One part that I really enjoyed was a couple turret-chaingunners that were constantly revived by AV's, which the player had to seek out and kill in order to stop the cycle. It's a cool feature that isn't utilized enough in maps, to me. Coming in a 443 monsters, it's a pretty decently-sized map, that'll keep you entertained for 30 minutes to an hour. Give it a shot!

_______________________________________________________________
Third on our list is the first release of the Strife demo, "Strife Demo 1.0" by Rogue Entertainment (uploaded by Mike Swanson); find it here: http://doomwadstation.net/idgames/roguestuff/strife10.zip



This demo has been more elusive than the 1.1 demo, so Mike Swanson uploaded it for historical preservation, which I think is pretty cool! Strife is a really fun game; the best way I can describe it to someone who's never played it is if Heretic was a successor to Doom, then Strife would be the successor to that. This addition to the archives is the perfect chance to get to see the beginning of the game, so download it right away if you've yet to try Strife! Note that this demo needs to be run in DosBox on newer operating systems.

_________________________________________________________________

Next up is "Sawdust," a collection of maps from "Valiant's" early development that hit the cutting room floor and have been collecting dust ever since. Paul "skillsaw" DeBruyne's scraps can be found here:
http://doomwadstation.net/idgames/doom2/Ports/s-u/sawdust.zip




These maps run in MBF-compatible ports with the Doom 2 iWad.

"Valiant" is among the best megawads ever made, and like most great projects there were some maps cut out; these are those maps. Still, just because they were cut doesn't mean that they are not great maps! I have been having a blast not only playing these maps, but also watching DoomWorld member Rayzik's YouTube and Twitch channels as he plays through them. Definitely give these maps a run or five, then head on over to Rayzik's YouTube channel and see his awesome videos!



Find his channel here:
https://www.youtube.com/channel/UCQYckZWrNmAJv-cufwyUDoQ

_______________________________________________________________
Fifth on the list is a DM map titled, "Snort (v0.99)" by Maarten Hoogveld and can be found here:
https://www.doomworld.com/idgames/levels/doom2/deathmatch/s-u/snort




This DM map runs under the Doom 2 iWad.

I like this map, but don't like it at the same time. This is a map that I would likely perform very badly in, though there are certainly things here that are good for DM. Most things are instant; lifts and the one or two doors, but no starting positions I experienced started not only without a decent weapon, but with no weapon at all. Seems an easy map to run the table on to me. Still, prolly would be a fun 2-4 player map for a DM, so grab a friend or three and get in some quick frags!

________________________________________________________________

Following that is a map I had the pleasure of playing last week; "Lebanon Connection" by Memfis can be found here:
http://doomwadstation.net/idgames/doom2/Ports/j-l/lebaconn.zip




This map runs in Limit-Removing formats (PrBoom+ -complevel 2) under the Doom 2 iWad.

This was a fun, quirky little map made in Memfis' traditional minimal-style detailing. Some pretty fun fights and I liked the twists, hehe. Give it a shot if you haven't already.

_________________________________________________________________
Our seventh wad this week is "DUMP Episode 1: Fuck Time Limits" by TerminusEst13, found here:
http://doomwadstation.net/idgames/doom2/Ports/megawads/dump-1.zip




This 17-map megawad runs in Zandronum 2.1.2 and ZDoom 2.8.1 with the Doom 2 iWad.

Some pretty darn cool maps in here; a mixed bag, to be sure, but I had fun with this!

________________________________________________________________
What else can follow "DUMP Episode 1," but "DUMP Episode 2?" "DUMP Episode 2: Dump Harder" by TerminusEst13 can be found here: http://doomwadstation.net/idgames/doom2/Ports/megawads/dump-2.zip




This massive megawad contains 68 maps! It runs in "Zandronum 2.1.2, ZDoom 2.8.1, Aleph One (for map77)" under the Doom 2 iWad.

The grabbag of grabbags, this massive bag could bog down even Santa's sleigh, and playing this; I felt like a kid on Christmas. Lotta really cool maps in here, though some I wasn't so enthusiastic about. Kinda like socks on Christmas, you need 'em, but you were really looking for something else when you opened that box, heh. Still, jokes aside, these maps were great and definitely worth a play! Tons of content here; enough to keep even an avid doomer busy for hours; BINGE!

_________________________________________________________________

Ninth this week is "OSHIT" by Jeff Tunick, found here: http://doomwadstation.net/idgames/doom/deathmatch/m-o/oshit.zip

This small DM map runs with the Ultimate Doom iWad and consists of one sqaure room that looks like it was made in about 2 seconds.

_______________________________________________________________
After that is another small DM map by Jeff Tunink; the aptly named "4block" can be found here:
http://doomwadstation.net/idgames/doom2/deathmatch/0-9/4block.zip

This small DM map runs with either the Ultimate Doom or Doom 2 iWads. This small DM map consists of 4 squares attached to another square in the middle with a pit, which is also the only height variation in this map.

_______________________________________________________________
Eleventh is a SP map from Jeff Tunink; "1stpdie" can be found here: http://doomwadstation.net/idgames/doom/0-9/1stpdie.zip

This map runs under the Ultimate Doom iWad. More squares with no detailing; this time separated by doors and filled with enemies. Shooting-gallery enthusiasts rejoice!

_______________________________________________________________
Lastly from Jeff Tunink is a map called "Gore5" and can be found here: http://doomwadstation.net/idgames/doom2/deathmatch/g-i/gore5.zip

This map runs with the Ultimate Doom iWad. Ugly DM map, but better than all of the previous 3.

_______________________________________________________________
Our thirteenth wad this week is called "100,000 Revenants" by Revenant100 aka Marphy Black; find it here:
http://doomwadstation.net/idgames/doom2/Ports/0-9/100krevs.zip




This Boom-compatible (-complevel 9) map runs under the Doom 2 iWad.

This map is about the "Nuts" equivalent of revenants. My comp can't run it, so instead, here's a link to a YouTube video from the map's creator of the map in action; check it out!



______________________________________________________________
Second-to-last this week is a wad called "Battle for the sphere of chaos" by Kenon, which can be here: http://doomwadstation.net/idgames/hexen/a-c/bftsoc.zip




This 4-map wad was made for Hexen and runs in zDoom 2.8.1+.

This Hexen map set uses Heretic textures and enemies; I do not own Hexen, so could not play it, but a buddy, meleemario, was kind enough to get me this screenshot of it and I think it looks cool! Not often that we get Hexen wads, so give it a go!

_______________________________________________________________
Our fifthteenth and final item this week is called "ROMERO'S HERESY" by John Mullins aka Drfrag Rafael Angel Jimenez aka The Master. Find it here: http://doomwadstation.net/idgames/doom2/combos/rheresy.zip

This is an unofficial patch for Heretic: SotSR which ports all levels into Doom, so they can be played with Doom weapons and enemies. Seems the wrong direction to me, but who am I to judge? Hehe.

In order to run this wad, the user must first (I suggest copy+pasting for this!) put their Doom 2 and Heretic: SotSR iWads into the folder, then run the batch file. This downgrades the Heretic iWad's version, then creates a new wad file called rheresy.wad, which the user then runs under the Doom 2 iWad in zDoom.

Unfortunately this did not work on my computer; my Windows 10 64-bit version did not like the batch file and even DosBox failed when the wad conversion was almost done, leaving me with just a bunch of assets in folders. Shame, but the reviews on /idgames are mixed, so give it a shot!
Speedrunning news and videos
DoomWorld member Revved put out a small collection of demos for "Rebirth" and they're pretty cool! Included is a D2ALL UV Max in 1:52:45, as well as an E1 UV Max at 23:47 and a MAP30 UV Max at 1:03. Really great times and really cool demos to watch! Congrats on making these things, Revved, and great job!

Find the demos on the Rebirth demos thread here: https://www.doomworld.com/vb/doom-speed-demos/55578-rebirth-demos-complevel-2/2/

______________________________________________________

I'd like to again mention the awesome collection of Perdition's Gate demos released by 4shockblast because there is so much material there and so many are just fantastic runs! With over 334 demos totalling over 20 hours of gameplay, there is enough here to keep any Doomer entertained for weeks! From what I've watched so far, these demos are just fantastic and some are pretty mind-blowing. I highly recommend that everyone watch these things! BINGE MORE!

Check out these awesome demos here:
https://www.doomworld.com/vb/doom-speed-demos/87341-perditions-gate-demo-pack-released/

Awesome job on these demos to all involved!

NEWS from around the Web
Looking towards the DoomWorld forums gives us a few gems this week!

DoomWorld member Death Egg has released some canceled "Cool Spot TC" resources. I used to love playing Cool Spot for the Sega Genesis as a kid, so when I saw this I had to smile. It's a shame he didn't do more with it, but I'm glad he did as much as he did. Even with only a small few enemies (sprites/sounds), HUD, text and a sky, this cool little wad is worth the download. Enemies include lost souls, shotgunners, and demons. Check it out!




See the thread here: https://www.doomworld.com/vb/post/1600889

_________________________________________________

"Dodgeball Doom 2 - The Rematch" is an interesting-looking mod, found not only over on the Zand forums, but also on its own Zand server! I'll be looking for some people to throw my balls at over the next few days, but from a quick glance it looked fun! The server name is ":: [BE] Montreal :: Dodgeball Doom 2 - The Rematch Beta 2"




Check out its thread on the Zand forums here: https://zandronum.com/forum/viewtopic.php?f=58&t=7398

=================================================

One Man Doom has 3 new reviews posted up, all great reads about great wads!




Up first is "Bloodstain" by Pavel Tvrzník, a Limit-Removing (-complevel 2), Doom 2 megawad. "Bloodstain" is easily one of my favorite mapsets for its impressive designs. Read KMX's great review here: https://onemandoom.blogspot.com/2016/05/bloodstain-bstainwad.html




Second is Jan Van der Veken's "No Sleep for the Dead," which was a very impressive Vanilla mapset for the Ultimate Doom iWad, E1M1-E2M1 (10 maps total). Check out KMX's full review here: https://onemandoom.blogspot.com/2016/05/no-sleep-for-dead-nos4deadwad.html




Lastly, KMX put up a review for RottKing's "Elf Gets Pissed," which is a Heretic Episode 1 replacement that I have had the pleasure of playing once or twice. I can attest that all three of the mapsets covered by KMX this week are awesome, but for the few Heretic fans out there, this one is a must-play! Head on over to One Man Doom and give KMX's sweet review a read: https://onemandoom.blogspot.com/2016/05/elf-gets-pissed-elfgpwad.html

______________________________________________

Sgt. Mark IV has been working on a Doom 4 weapons pack; check the video.



_______________________________________________
Realm667 has a many new posts up on their front page! Lots of cool stuff to check out there; I highly encourage paying a visit to their site and checking out the news posted by Tormentor667 this past week!

Realm667: http://realm667.com/index.php/en/

===============================================

DoomWorld member Ancalagon has released a pack of 17 demos for the 9-Boom-map set "Crumpets," by Ribbiks. Included is a UV-Max and NM-Speed for each level, minus the intro map, plus a full UV-Max "movie," which is different than the individual runs. These things are awesome, flat out. Definitely give these bad boys a watch. Binge, I say; BINGE on Doom!

Check out the thread here:
https://www.doomworld.com/vb/doom-speed-demos/88357-crumpets-demopack/

Doom 3/4 news
While not "technically" Doom 4 news - it is sorta. Someone created a Weapons mod for Doom 2, using Doom 4 weapons. Worth a look.
You can get that here.
Other than that, really not much going on, which, I fear, is going to be the case with this game because it can't be modded and you can only download maps through Steam, which really blows. So, unless the developers make it possible to mod this game, what can I tell you, log into Steam and get a map I guess.
Not really much going on with Doom 3 either. If you have any news to add for either of these, be sure to email me.

In case you were wondering about System Requirements for Doom 4
Doom video game system requirements
( minimum )
OS:

Windows 7, Windows 8.1, Windows 10 (64-bit versions only)


Processor:

Intel Core i5-2400 or better / AMD FX-8320 or better


Memory:

8 GB RAM


Graphics:

NVIDIA GeForce GTX 670 (2GB or better / AMD Radeon HD 7870 (2GB or better


DirectX:

Version 11


Network:

Broadband Internet connection


Storage:

22 GB available space


Additional Notes:

Open GL 4.5. Latest Graphics Drivers.
Doom Reborn has received an update! Pre-Beta Version 1.5 is now out, which has added in a lot of new textures from Reinchard, new levels including E1M8b, and some other stuff! That sounds awesome! Download the newest version right away and start playing Doom 3 as it should have been: true to the original. Also keep in mind that the team is looking for good people to help set it free. Check out their site here:
http://www.doomreborngame.com/

That about wraps it up for this week. Once again, Vinny and I would like to thank YOU, the people who keep the community alive, for visiting this tiny corner of the internet and getting your news from Doom Wad Station. Mucho appreciado!
See you next week, same Doom time, Same Doom channel. If you have news - a wad, a new site, a youtube video you want to share, just email me and we'll get it into TWID.
This site needs your help. In order for this site to survive, it depends on the generosity of it's users to help by contributing to assist in offsetting the cost of hosting, time, etc... help doom wad station to keep bringing you high quality reviews and downloads please consider a donation today.
making history!
The history of Doom Wad Station
Looney Tune Doom
Sites by Jive (RIP)
Links
Want a link? Email me!
Link Doom Wad Station!
- HACX
- Filefront
- Boomtown!
- Goldeneye TC
- ID Software
- Doom2.net
- Team Hellspawn
- Doomworld
- Realm667
- Doomed: Doom Reviews
- Last Man Standing
- Wolf 3D Dome
- Doomkids Wad Shack

Contact
-
Got questions?